Histology and the pathologist
The pathologist is an expert at examining cells under a microscope. The primary responsibility of the pathologist is to establish the diagnosis, whether breast cancer or not. The pathlogical consultation report will also include breast cancer staging information such as the TNM status (the extent of the primary breast tumor, presence of absence of lymph node metastasis, and the presence of distant metastasis).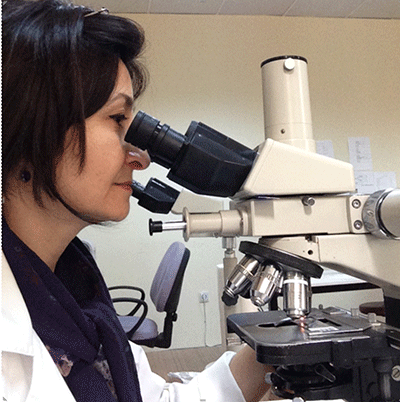 The pathologist's report also gives very helpful information about how to select treatments for the breast cancer and even to estimate the prognosis. But the essential role is to look at the microscopic appearance of tumor cells and tell you what kind of cancer it is. Without the pathologist, a diagnosis of breast cancer cannot be made.
I just want to let you know that I have created a newer version of this page with more up-to-date information on Pathologists… However, this page is still pretty useful and I would still use it as well.
The cancer cells are darker purple, too many, filling up a duct.
Pathologists evaluate breast tumor biopsy samples
Samples for microscopic evalution by a pathologist are gathered by a technique called 'biopsy'. Sometimes it takes a large tissue sample to really figure out what his happening, (called an 'excisional biopsy', done surgically), but for minimal and very early stage breast cancers a core biopsy (done with a needle) provides enough of a sample. The size of a biospy sample may be a topic of discussion between the pathologist and the radiologist.
The pathologist determines the histological 'type' of the breast cancer tumor
A pathologist will measure the size of the tumor and the histological 'type' of the tumor. The breast tumor type and grade is mostly determined by the size of the tumor, the presence of lymph node metastasis, and metastasis to other areas of the body. The pathologist will examine the cells under a microscope to look for signs of malignant activity. These might include cells dissociation, irregular nuclear borders and shapes, extra large nuclei, arrangements of cells in clusters, nucleoli, and necrosis.
They might also note the presence of calcifications (which is more than likely due to benign causes). Sometimes this is called establishing a 'nuclear grade' for the malignant breast carcinoma. The pathologist will also likely assess the status of blood vessels and blood supply, and check for lymphatic vessel invasion.
This is artistic, but a little dark and moody.
The pathologist performs immunohistochemical tests to check the hormone status of the breast tumor
Another job of the pathologist in the histological evaluation of a breast tumor is to determine the status of the 'hormone receptors', sometimes also called 'steroid receptors'. By applying various protein-based dyes to the tumor, the pathologist can identify the presence of certain hormones which are 'over expressed'. This can have a direct bearing on treatment, and to a certain extent on prognosis.
Certain 'bio-chemical markers' present in the tumor form a kind of 'checklist' that helps the pathologist both identify the type of breast cancer, and also predict certain aspects of the breast cancer's behaviour. Stains are also used to better determine the genetic 'type' of the cancer cell (they are not always epithelial cells) and to look for other elements such as necrosis, fat, calcifications, and blood and lymphatic responses.
The main hormonal indicators important for breast cancers are the status of ER, PR, and Her2
The most important hormonal biomarkers in breast tumors involve the status of estrogen and progesterone receptors, (ER and PR), and also the epidermal growth factor receptors (Her2). If the breast cancer is ER and PR positive, which occurs in about 70% of invasive breast cancers, this suggests to the pathologist that the tumor will benefit from chemo/endocrine therapy, such as the use of tamoxifen.
Her2 positive breast tumors tend to be associated with a slightly poorer prognosis and higher risk or local recurrence, but there are also certain chemical therapies that are directly targeted for Her2 positive tumors (About 15% to 20% of invasive breast cancers are Her2 positive). Like ER and PR, Her2 status is measured at least initially by immuno-chemical staining. However, the pathologist might also employ Fluorescence in Situ Hybridization, (or FISH) which assesses Her2 DNA amplification in the tumor cells.
The pathologist might also view cancer cells with an electron microscope
The use of electron microscopy isn't routine in breast cancer pathology. Generally, pathologists are under serious time contraints and the use of an electron microscope takes a lot of preparation, and is fairly time-consuming to operate.
However, once in a while when a very detailed view is required, perhaps to examine the width of a given breast tubule or characteristics of a nucleus, it is used. But generally speaking conventional microscopy is adequate in the cellular evaluation of breast cancer tumors.
Evaluation of treatments is also done by pathological investigation
After an appropriate time, the pathologist if often called upon again to evaluate the results of treatments. Essentially, they will be looking for the presence of cancer cells at the tumor site or at the lymph nodes. The presence of certain biomarkers at the tumor site or in the blood are also important indicators of the body's response to treatment. It is particularly important to measure and adjust the breast cancer patient's response to chemotherapy on a regular basis.
Testing for breast cancer metastasis by monoclonal antibodies
The use of monoclonal antibodies in now being test various breast cancer treatment centres. The idea here is to try and find treatments which attack only the malignant tumor cells, and leave the health cells untouched. Experiments along these lines hope to use the bodies immune system response in order to target only the cancer cells.
Certain hormones expressed in the breast tumor, Her2 hormones in particular, can limit the effectiveness of monoclonal antibodies, so part of the pathologists role will be to identify the presence of the hormones, and to suggest anti-(c-erbB-2/HER-2) agents be applied during treatments.
Detection of occult metastasis: bone marrow assessment
One of the task the pathologist on the breast cancer team might be asked to undertake is an assesment of 'occult' metastasis, which can sometimes be found in the bone marrow. It is a relatively new area of investigation, but researchers believe that the presence of certain breast tumor-associated cell membrane glycoproteins found on immunostained bone marrow cells, may be a prognostic indicator for shorter relapse-free intervals and overal breast cancer survival. The use of microscopic arrays and monoclonal antibodies is also being used in bone marrow assessment.
New directions for pathological analysis: genetic microarray expression
The new trends in breast cancer diagnosis and targeted treatment therapies increasingly involve a certain amount of genetic and molecular profiling. Testing for the genetic BRCA1 and BRCA2 variants has been in place for a number of years now, as it is believed to identify women in breast cancer screening programs who may have a higher than average genetic risk for breast cancer development.
In some breast cancer treatment centres the use of certain molecular techniques and in particular 'gene expression profiling', are increasingly being used as a way to both to specifically classify breast cancer, but also to help assess prognosis and to better predict the response to chemical and hormonal therapies. However, the use of "molecular classifiers" for identifying and staging breast cancers is still in it's infancy, and it is yet to be seen whether these new molecular-genetic systems are clinically practical. In any event, this is an area where the pathologist will certainly be involved, but in most cases it will also require association with a specialist in the area of molecular genetics.
The breast cancer pathologist learns to 'self-tune' for accurate diagnosis
The pathologist is an essential player in the breast cancer diagnostic and treatment team. They also have to be 'in tune' with a proper balance in terms of their own tendencies to either underestimate or overestimate the cancer risk in breast tumors. It is possible for some pathologists to be a little too lax, where true breast cancers are diagnosed as hyperplasia or DCIS. Others pathologists might be a little too strict, labelling benign hyperplasias and DCIS as breast cancers. It takes a certain amount of experience, and also awareness of their own statistical accuracy within their unit and compared to other pathologists. Breast cancer diagnosis and prediction is very complex and rarely clear-cut. The pathologist learns about the 'thresholds' in their own mind which tend to confirm breast cancer and and the aggresiveness of that cancer.
---
Everything you need to know about Breast Cancer Pathology is listed above. Take a look below, there are a couple Q&A…
What is the diagnosis or final diagnosis? This is the most important section of the report. It gives the pathologists final diagnosis and may include information on features of the tumor such as size, type, grade, hormone receptor status and HER2/neu status. If lymph nodes were removed, the status of these lymph nodes will also be included. These characteristics may appear grouped together or as seperate sections, depending on your pathology report.
What does non-invasive and invasive mean? DCIS is a non-invasive brest cancer (stage 0). The cancer cells are contained within the milk ducts (in situ means in place). Invasive breast cancer (also called infiltrating cancer) means the cancer cells inside of a milk duct or lobule have broken out and spread to nearby tissues.
What does nuclear grade mean? The nuclear grade describes how closely the nuclei of cancer cells look like the nuclei of normal breast cells. In general, the higher the grade, the more abnormal the nuclei are and the more aggressive the tumor cells tend to be. The nuclear grade is a part of overal tumor grade.
What is some other information on a pathology report? The following items are included on all pathology reports, but do not impact prognosis or treatment. These include patient information (name, record number, date of birth, age, sex, date of biopsy, and name of health care provider), specimen(s) received, description of procedure, clinical history, gross description, and pathologist's signature.
---
References
Hutter RV. The role of the pathologist in the management of breast cancer. CA Cancer J Clin. 1991 Sep-Oct;41(5):283-99.
Al-Yuself, R.Breast Cancer – Changing Role of the Pathologist Bahrain Medical Bulletin, (Dec. 2005) Vol. 27, No. 4, December 2005.
Pavelic K, Gall-Troselj K. Recent Advances in Molecular Genetics of Breast Cancer. J Mol Med 2001;79:566-73.
Emens LA. Trastuzumab: Targeted Therapy for the Management of HER-2/neuover expressing Metastatic Breast Cancer. Am J Ther 2005;12:243-53.
Wolff AC, Hammond ME, Schwartz JN, et al. American Society of Clinical Oncology/College of American Pathologists guideline recommendations for human epidermal growth factor receptor 2 testing in breast cancer. J Clin Oncol. 2007;25:118-145.
Sotiriou C. Gene expression profiling. Program and abstracts of the 2007 Breast Cancer Symposium; September 7-8, 2007; San Francisco, California. General Session IV: Clinical and research issues in pathology.
Collins LC. Premalignant lesions: ductal carcinoma in situ, lobular carcinoma in situ, and other lesions that increase the risk of invasive breast cancer. Program and abstracts of the 2007 Breast Cancer Symposium;
Gown AM. Current issues in ER and HER2 testing by IHC in breast cancer. Mod Pathol. 2008 May; 21 Suppl 2:S8-S15.
Rakha EA, Reis-Filho JS, Baehner F, Dabbs DJ, Decker T, Eusebi V, Fox SB, Ichihara S, Jacquemier J, Lakhani SR, Palacios J, Richardson AL, Schnitt SJ, Schmitt FC, Tan PH, Tse GM, Badve S, Ellis IO. Breast cancer prognostic classification in the molecular era: the role of histological grade. Breast Cancer Res. 2010;12(4):207. Epub 2010 Jul 30.
Geyer FC, Decker T, Reis-Filho JS. Genome-wide expression profiling as a clinical tool: are we there yet? Pathologe. 2009 Mar;30(2):141-6.
Schnitt SJ. Classification and prognosis of invasive breast cancer: from morphology to molecular taxonomy.Mod Pathol. 2010 May;23 Suppl 2:S60-4.
Ross JS, Slodkowska EA. Circulating and disseminated tumor cells in the management of breast cancer.Am J Clin Pathol. 2009 Aug;132(2):237-45.
Wells WA, Wang X, Daghlian CP, Paulsen KD, Pogue BW.Phase contrast microscopy analysis of breast tissue: differences in benign vs. malignant epithelium and stroma. Anal Quant Cytol Histol. 2009 Aug;31(4):197-207.
Eccles, S. Monoclonal antibodies targeting cancer: 'magic bullets' or just the trigger? Breast Cancer Res 2001, 3:86-90
Braun S, Pantel K.Clinical significance of occult metastatic cells in bone marrow of breast cancer patients. Oncologist. 2001;6(2):125-32.
Back to breast cancer treatment list or to the brand new homepage.