Invasive ductal cancer with central necrosis
"Necrosis" refers to the debris left behind when cells die. In the context of a suspected breast cancer tumor it is usually considered an indicator of a more aggressive breast carcinoma.
It is quite common to see cell necrosis in mature infiltrative or invasive breast cancers, but when the necrosis is collected in a kind of 'central' location in the middle of the tumor, this is something more commonly associated with 'comedo DCIS' or comedo carcinoma, and not infiltrative breast cancer.
When a woman undergoes breast cancer screening and a suspected lesion is discovered, then biopsied, the pathologist may well encounter a characteristic 'central necrosis' pattern in the lesion. The danger, then, is that the suspicious lesion might be 'underestimated' as simply being DCIS, when it may in fact be evidence of a larger, invasive ductal carcinoma with central necrosis.
Infiltrating ductal carcinoma with central necrosis is an uncommon but readily identifiable subtype of breast carcinoma, and is considered to be highly aggressive, often with early systemic metastasis and an accelerated clinical course.

When the biopsy result says the invasive cancer also has central necrosis, that's not good news.
Infiltrative vs in situ breast carcinoma status can be determined through immunohistochemistry
Though somewhat rare, physicians who specialize in breast cancer diagnosis will tell you that it is quite possible for a breast carcinoma to present with both 'in situ' and 'infiltrative' characteristics. A mix.
An infiltrative ductal carcinoma with a central necrosis will so closely mimic a 'DCIS with central comedo necrosis' that the initial morphological evaluation might well mis-label the lesion as high grade comedo DCIS.
In order to determine the true extent and potential threat of the breast carcinoma, one either has to perform additional biopsies and imaging studies from various locations, or, pay very close attention to the immunohistochemical analysis of the original biopsy specimen. There are certain proteins present in an infiltrating ductal carcinoma which are distinct from comedo breast carcinoma in situ. The key feature is an assessment of the myoepithelial lining of the duct, as positive indicators for myoepithelial cell involvement will tend to be indicative of an infiltrative or pre-invasive status for the breast cancer. Immunohistochemical evidence for either a deficient or absent basement membrane and myoepithelial cell layer will generally confirm a diagnosis of infiltrative breast carcinoma with central necrosis, rather than a comedo type DCIS.
Some breast cancer tumors can be 'in situ'-like, but still be invasive
The physical appearance of breast carcinoma cells is usually informative, but can also be misleading. The 'central necrosis' feature of infiltrative ductal carcinoma with central necrosis is so much like comedo breast carcinoma in situ, that it can lead to a missed diagnosis. The pathologist must realize that there are some breast cancer tumors in which some or all of the tumor can be DCIS-like, but still be an infiltrative or invasive breast tumor. Sometimes and 'irregular circumference' of invasive foci carcinoma is evident when compared to true DCIS comedo circumference, (which is more regular).
Additional immunohistochemical markers for infiltrative ductal carcinoma with central necrosis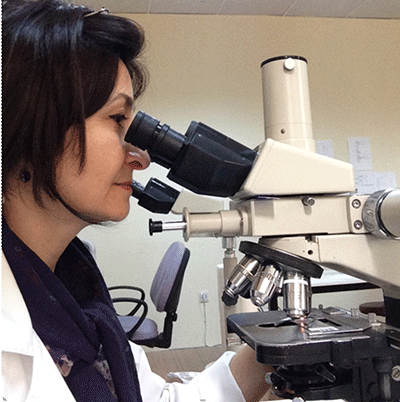 Most invasive breast cancers will lack both a basement membrane and myoepithelial cells, but in actuality, there are many breast cancers which produce basement membrane components, and there are several invasive cancer which have myoepithelial cell elements. But when trying to determine if a suspected breast cancer lesion featuring central necrosis is comedo DCIS or an infiltrative breast carcinoma with central necrosis, there are a number of myoepithelial markers which may prove informative. Common myoepithelial cell markers include S-100, smooth muscle actine, SMM-HC, Calponin, and HMW-CK. SMM-HC is probably the most specific myoepithelial cell marker. Other commonly used myoepithelial cell markers might include CD10, p63, and Maspin. P63 is quite a useful marker in breast cancer differentiation because it stains the myoepithelial nuclei only, and with high sensitivity and specificity.
There is no 'accepted' correlation between type and grade of DCIS and probability of future invasive breast cancer status
In the ongoing attempt to discover and treat breast cancer at the earliest possible stage, there have been a number of studies which speculate on those features of DCIS which are most likely to evolve into an invasive breast cancer. The two factors which are most commonly discussed in this regard are the nuclear grade of malignant cells, and the presence of necrosis. Which of these two factors is of greater importance is still a subject of debate and interpretation.
I made this page many years ago. This paragraph might be totally obsolete by now.
The conventional 'model' of DCIS progression to breast cancer goes something like this: Atypical ductal hyperplasia, low grade DCIS, intermediate grade DCIS, high grade DCIS, infiltrative ductal carcinoma. But there are alternative models emerging now, suggesting that DCIS does not necessarily have to be of a high grade before transforming into an invasive breast cancer. Some breast cancer researches propose that if certain features are present in an intermediate grade DCIS, such as a certain nuclear feature or the presence and degree of necrosis, then the carcinoma might proceed directly to infiltrative and invasive breast cancer status. This has not been definitively proven, but there is a general consensus that the presence of necrosis in any early stage breast carcinoma is usually considered as an indicator of a potentially more aggressive breast cancer. By and large, however, it would appear that analysis of the nuclear grade and not the presence, degree, and pattern of necrosis, is the more consistent indicator of malignancy in breast carcinoma. Moreover, some researchers believe that high grade DCIS is itself a unique genetic pattern, that may not develop from low and intermediate grade DCIS.
Sometimes an infiltrative breast carcinoma with central necrosis is referred to as a 'centrally necrotizing breast carcinoma, (CNC). Historically, centrally necrotizing breast carcinomas have an aggressive course. Histologically, infiltrating ductal carcinoma with central necrosis tends to be composed of a well-circumscribed, unicentric nodule with an extensive region of central necrosis, which is usually surrounded by a narrow 'rim' of high-grade tumor cells. But these tumor cells usually show only minimal if any ductal differentiation, ie. they tend not to form into 'tubules'.
The average age of development of an infiltrative ductal carcinoma with central necrosis is hard to estimate, but generally occurs in the mid 50s. Most infiltrative breast carcinomas with central necrosis are estrogen and progesterone receptor negative, making them more resistant to treatment.
These tumors and generally treated with lumpectomy or mastectomy, and often with adjuvant radiation therapy. Nonetheless, about 60% of infiltrative centrally necrotizing ductal carcinomas do either recur locally or metastasize to a distant site.
Caution, because this page is old, and many treatment improvements have come along since it was written, just realize that survival is better than this page indicates. Your oncologist will have up-to-date information that stays current.
When compared to infiltrating ductal carcinomas without central necrosis, there is unfortunately a significantly worse prognosis for breast cancers featuring a central necrosis pattern. What happens in these breast cancers is that the cells are dividing fast enough to grow outward faster than blood vessels can develop, which is why the necrosis pattern develops. The average duration between treatment and recurrence of disease tend to be around 16 to 17 months, and up to 70% of patients with a centrally necrotizing breast carcinoma succumb to the disease within two years. However, if a proper diagnosis is made in the early stages, the outlook is certainly more positive.
References
Pervez S, Khan H. Infiltrating ductal carcinoma breast with central necrosis closely mimicking ductal carcinoma in situ (comedo type): a case series. J Med Case Reports. 2007 Sep 8;1:83.
Yaziji H, Gown AM, Sneige N: Detection of stromal invasion in breast cancer: the myoepithelial markers. Adv Anat Pathol 2000 , 7:100-109.
Wick MR, Ockner DM, Mills SE, Ritter JH, Swanson PE: Homologous carcinomas of the breasts, skin and salivary glands. A histologic and immunohistochemical comparison of ductal mammary carcinoma, ductal sweat gland carcinoma and salivary duct carcinoma. Am J Clin Pathol 1998 , 109:75-84.
Leonard GD, Swain SM: Ductal carcinoma in Situ, Complexities and Challenges. Natl Cancer Inst 2004 , 16; 96:906-20.
Luke C, Priest K, Roder D: Changes in incidence of in situ and invasive breast cancer by histology type following mammography screening. Asian Pac J Cancer Prev 2006 , 7:69-74.
Leong AS, Sormunen RT, Vinyuvat S, Hamdani RW, Suthipintawong C: Biologic markers in ductal carcinoma in situ and concurrent infiltrating carcinoma. A comparison of eight contemporary grading systems. Am J Clin Pathol 2001, 115:709-18.
Page DL, Dupont WD, Rogers LW, et al. Continued local recurrence of carcinoma 15-25 years after a diagnosis of lowgrade ductal carcinoma in situ of the breast treated by biopsy. Cancer. 1995;76:1197-1200.
Leong AS-Y, Vinyuvat S, Suthipintawong C, et al. A comparative study of cell proliferation markers in breast carcinomas. J Clin Pathol Mol Pathol. 1995;48:M83-M87.
Consensus conference on the classification of ductal carcinoma in situ. Hum Pathol. 1997;28:1221-1225.
Goldstein NS, Murphy T. Intraductal carcinoma associated with invasive carcinoma of the breast: a comparison of the two lesions with implications for intraductal carcinoma classification systems. Am J Clin Pathol. 1996;106:312-318.
Thompson EW, Torri J, Sabol M, et al. Oncogene-induced basement membrane invasiveness in human mammary epithelial cells. Clin Exp Metastasis. 1994;12:181-194.
Perin T, Canzonieri V, Massarut S, et al. Immunohistochemical evaluation of multiple biological markers in ductal carcinoma in situ of the breast. Eur J Cancer. 1996;32A:1148- 1155.
Gupta SK, Douglas-Jones AG, Fenn N, et al. The clinical behaviour of breast carcinoma is probably determined at the preinvasive stage (ductal carcinoma in situ). Cancer. 1997;80:1740-1745.
Holland R, Peterse JL, Millis RR, et al. Ductal carcinoma in situ: a proposal for a new classification. Semin Diagn Pathol. 1994;11:167-180.
Maiorano, E., Regan, M., Viale, G., Mastropasqua, MG., Colleoni, M., Castiglione-Gertsh, M., Prince, KN., Gelber, RD., Goldhirsch, A., Coates, AS., Prognostic and predictive impact of central necrosis and fibrosis in early breast cancer: Results from two International Breast Cancer Study Group randomized trials of chemoendocrine adjuvant therapy . Breast Cancer Research and Treatment Volume 121, Number 1, 211-218
Jimenex, RE., Wallis, T., Visscher, D., Centrally Necrotizing Carcinomas of the Breast: A Distinct Histologic Subtype With Aggressive Clinical Behavior. Amer ican Journal of Surgical Pathology: (March 2001) Volume 25 – Issue 3 – pp 331-337
Yu L, Yang WT, Cai X, Lu HF, Fan YZ, Shi DR.Clinicopathologic study of centrally necrotizing carcinoma of breast.Zhonghua Bing Li Xue Za Zhi. 2009 Oct;38(10):657-62.
Back to Types of Lesions list.