CONTENTS:

3.5 Benign Fibro-epithelial Tumors
3.5.1 Fibroadenoma Breast
3.5.2 Benign Phyllodes Tumor
3.6 Benign Mesenchymal Tumors of the Breast
3.6.1 Lipoma
3.6.2 Angiolipoma
3.6.3 Nodular fasciitis
3.6.4 Myofibroblastoma (Myogenic Stromal Tumor)
3.6.5 Fibromatosis (Desmoid)
3.6.6 Inflammatory Myofibroblastic Tumor (Inflammatory Pseudotumor, Plasma Cell Granuloma)
3.7 Benign Vascular Lesions
3.7.1 Hemangioma (Capillary, Cavernous and Perilobular)
3.7.2 Angiomatosis
3.8 Benign Neural Tumors
3.8.1 Granular cell tumor
3.8.2 Neurofibroma
3.8.3 Schwannoma
3.9 Smooth Muscle Cell Tumors
3.9.1 Leiomyoma
Forward to 3D on gynecomastia. Back to 3B on benign hyperplasias
3.5 Benign Fibro-epithelial Tumors

This category of benign breast tumors often presents as a hard lump or as a well-circumscribed, palpable mass seen on mammography. From the small amount of tissue obtained from a core needle biopsy (CNB), the initial Pathology report may be that of 'benign fibro-epithelial tumour' or 'fibrocystic breast disease'
This whole section is quite good news I would think, as all these conditions are benign breast disease.
Yes I guess, but there are a lot of 'oma's' and 'osis's' and 'itis' in the index, which sound complicated.
I like cows as well, oops sorry that's 'bovine' isn't it? not 'benign'.
3.5.1 Fibroadenoma Breast

Fibroadenoma breast is the most common diagnosis for benign solitary breast lumps and occurs most commonly in younger women between 15 and 35 years of age.  Fibroadenomas are hormone-dependent as they can fluctuate in size during the menstrual cycle, they increase in size during pregnancy and regress after the menopause.  So, oral contraceptives or hormone replacement therapy can also affect fibroadenoma breast.
The fibroadenoma breast presents as a mobile mass in the breast, sometimes called a 'breast mouse.' It has a typical mammographic appearance and can be diagnosed by core needle biopsy (CNB) and fine-needle aspiration cytology (FNAC).
I'm in shape you know. Round is a shape.
'Variants' of Fibroadenoma Breast
In 20% of cases, fibroadenoma breast may be multiple, (i.e. present as breast lumps) either within the same breast or bilaterally.
'Giant fibroadenoma' is larger than 10 cm in diameter and an excisional biopsy of this benign tumor is usually necessary.
'Juvenile fibroadenoma' has greater stromal cellularity and more glandular tissue; they occur in younger women under 18 years of age and are often solitary.  Excision of this type of tumor, is often the treatment of choice.
'Complex fibroadenoma' may present on clinical examination as a solitary, palpable breast mass.  On mammograph and breast ultrasound this benign tumor presents as a single mass.  Complex fibroadenomas  also contain other proliferative lesions, including sclerosing adenosis or epithelial hyperplasia. Management includes complete excision and thorough histological examination to exclude any areas of epithelial atypia.
Simple follow-up to keep an eye on a fibroadenoma breast is enough,  but many women prefer to remove these benign tumors altogether, although there can be local recurrence.  Laser ablation can also treat fibroadenomas. There is no future risk of cancer with a diagnosis of fibroadenoma breast.
It's all good, if you have a diagnosis of  fibroadenoma then you can stop your worrying.
Figure 3.25 Fibroadenoma Breast.
A. Magnetic resonance imaging (MRI) of a breast mass discovered by
mammography, shows a well-circumscribed mass. B. Photomicrograph
of the histology of the excised mass confirms a benign fibroadenoma breast
consisting of irregular but well-formed glands in a varying amount
of fibrous stroma. Note the well-defined edge of this benign tumor,
forming a pseudo-capsule of compressed normal breast tissue. (H&E x 20)
3.5.2 Benign Phyllodes Tumor

The word 'phyllodes' comes from the Greek word meaning 'leaf.' The name describes the microscopic appearance of the leaf-like projections of fibrous tissue, covered in flattened epithelial cells, typical of phyllodes tumor. It is a variant of fibroadenoma but is often larger and represents proliferation of both epithelial and stromal cells.
Phyllodes tumors can be benign, but malignant change sometimes occur too (malignant phyllodes tumor).  Fine Needle Aspiration or a core needle biopsy can diagnose a phyllodes tumor.   Often surgeons will completely excise the tumor so that the Pathologist may sample the entire mass and look at it microscopically.
Figure 3.26 Benign Phyllodes Tumor.
A. Mammographic X-ray finding of a large, dense breast mass in a
middle-aged woman.  B. Photomicrograph of the histology of the
excised breast mass shows the 'leaf-like'  projections of
fibrous tissue covered by epithelium. (H&E x 10)
3.6 Benign Mesenchymal Tumors of the Breast

Because the breast contains many other structures, including skin, fat, blood vessels, connective tissue and nerves, a palpable breast mass or a mass detected mammographically, may also arise from these other structures.
3.6.1 Lipoma

As most of the normal breast consists of fat or adipose tissue, it is not surprising that lipomas can occur at this site. Lipomas are usually solitary masses composed of mature fat cells (adipocytes).
Lipomas are seen anywhere in the body, including in the breast, consist of an abundant of densely-packed fat cells (adipocytes), forming a well-circumscribed mass or lump.
Imaging will often show characteristic features for lipoma.   Fine needle aspiration cytology (FNAC) and core needle biopsy (CNB) confirm the diagnosis.
Your surgeon usually performs a complete excision of a benign lipoma.  However,  There is no future risk of cancer with a lipoma diagnosis.
Remember ladies, an apple a day keeps the doctor away. But if the doctor is cute, forget the fruit!
Figure 3.27 Lipoma.
A. Surgical excision specimen of a breast lipoma. B. Photomicrograph
of the histology of lipoma. Areas of fat cells (adipocytes) mix
with connective tissue and vessels, but most of the mass consists
of fat cells containing soluble lipid. (H&E x 20)
3.6.2 Angiolipoma

Mature adipocytes and thin-walled blood vessels containing adipocytes make up an Angiolipoma, a benign vascular tumor.  So, angiolipoma usually occurs as a sub-cutaneous nodule.  A breast biopsy will help diagnose this tumor and treatment involves a simple excision. Angiolipoma has no malignant potential.
3.6.3 Nodular Fasciitis

Nodular fasciitis is a rare tumor of the breast consisting of a reactive proliferation of fibroblasts and myofibroblasts in a myxoid stroma, mixed with lymphocytes and blood vessels. In the breast, nodular fasciitis can mimic malignancy clinically, but it has no malignant potential (Brown & Carty, 2005).
Fasciitiis? Isn't that a scary flesh-eating disease?
No Moose, that's necrotizing fasciitis. Nodular fasciitis is not dangerous at all.
3.6.4 Myofibroblastoma (Myogenic Stromal Tumor)

Myofibroblastoma can occur in many 'soft tissue' areas of the body including the breast, skin and lymph nodes.
The only real concern with myofibroblastoma is that it has certain histological features that can 'mimic' malignant spindle cell tumors such as spindle cell carcinoma of the breast. Myofibroblasts may feature abundant mitoses, but there is no cytological atypia. Myofibroblastoma has no malignant potential.
Myofibroblastoma, sounds like a good night out to me.
Oh you're right, but we need to shorten it a bit. How was your night out on Saturday?
I had a Myoblastoma, thanks very much!
Figure 3.28 Myofibroblastoma.
A. Mammographic X-ray appearance of a benign
myofibroblastoma shows an encapsulated mass.
B. Photomicrograph of the diagnostic biopsy shows
spindle cells and dense (pink) connective
tissue. (H&E x 20)
3.6.5 Fibromatosis (Desmoid)

Fibromatosis of the breast is rare, representing less than 0.2% of primary breast tumors. The microscopy of fibromatosis shows that it consists of fibroblasts and myofibroblasts. Fibromatosis usually occurs in women who are of reproductive age and may arise within the breast or the chest wall.
Clinically, although this is a benign condition, fibromatosis is infiltrative and locally recurrent if not completely excised. There is no association with subsequent malignancy.
I never realized there were so many types of benign breast tumours.
Yes, and diagnosis can be tricky sometimes because some of these tumours can mimic more sinister types of breast cancer, both on imaging and clinical findings.
Figure 3.29 Fibromatosis.
A. Mammographic X-ray shows white sheets of probable
connective tissue, but the infiltrative pattern can be worrying.
B. Photomicrograph of the histology from a core needle biopsy
(CNB) shows very dense collagen (pink) that appears to
compress and replace any residual capillaries, fibroblasts
and other breast structures.  No malignant cells
are seen. (H&E x 40)
3.6.6 Inflammatory Myofibroblastic Tumor (Inflammatory Pseudotumor, Plasma Cell Granuloma)

Inflammatory myofibroblastic tumor is very rare, with only about 20 occurrences in the breast. It is a benign condition consisting of fibroblastic stroma, lymphocytes, plasma cells and small vessels.
This condition has no malignant potential but may be associated with an IgG4 related sclerosing disease.
Oh my Goodness! Loads of big words here and even a bit of algebra, I'm Scared!
Don't worry IgG4 is kind of like R2-D2 I think.
No Hector IgG4 is a disease in which inflammatory cells cause fibrosis, nothing to do with Star Wars.
Figure 3.30 Inflammatory Myofibroblastic
Tumor / Inflammatory Pseudotumor.
Photomicrograph of this condition shows the cells that may be found
in mature granulation tissue; small capillaries, plump myofibroblasts,
scattered  lymphocytes and plasma cells and varying amount of
collagen. (H&E x 40)
3.7 Benign Vascular Lesions

Benign vascular lesions of the skin are quite common and also involve the skin of the breast.  Benign vascular tumors of the breast parenchyma are rare.
3.7.1 Hemangioma (Capillary, Cavernous and Perilobular)

Breast hemangiomas are benign but may be found in about 1.2% of breast mastectomy specimens.
Life is like a hot bath. It feels good whilst you're in it, but the longer you stay in the more wrinkled you get.
Capillary hemangioma is a sub-cutaneous, benign collection of thin-walled vascular channels that contain blood.
Cavernous hemangioma consists of dilated blood-filled cystic spaces. Blood supply can involve thick-walled blood vessels, making surgical excision quite difficult.
Perilobular hemangioma is characterized by a meshwork of dilated vascular channels that are irregular and thin-walled. Perilobular hemangioma may be situated within a breast lobule or in the extra-lobular breast stroma. There is no association with a specific type of breast carcinoma.

Figure 3.31 Hemangioma.
A. Mammographic X-ray appearance of a hemangioma
within the breast shows the radiolucent pooled blood within
the vascular channels. B. Photomicrograph of the histology of
hemangioma shows thin-walled vascular channels with no solid
areas. There is no atypia and no evidence of malignancy.
(H&E x 20)
3.7.2 Angiomatosis (Diffuse Hemangioma)

Angiomatosis, or diffuse hemangioma, is a rare benign vascular tumor that consists of blood and lymphatic channels growing diffusely within the breast tissue. It can be extremely painful, difficult to treat and has distinctive appearances on imaging (Ciurea et al., 2014).
3.8 Benign Neural Tumors
Benign neural tumors of the breast are uncommon, but usually have no malignant potential. They include granular cell tumor and the benign peripheral nerve sheath tumors (PNST), neurofibroma and Schwannoma, which are common findings in the skin.
3.8.1 Granular Cell Tumor

Granular cell tumor is a benign tumor derived from Schwann cells of the peripheral nerves. Granular cell tumor is rare in the breast; only 5% of granular cell tumors arise in the breast. It is a tumor more commonly seen in the head and neck region.
The most important feature of granular cell tumor in the breast is that its clinical presentation can mimic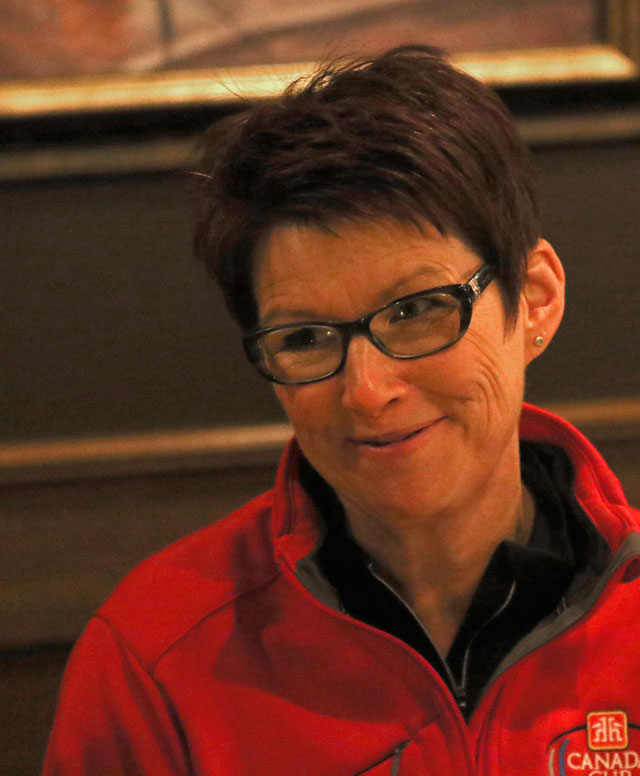 cancer, with skin retraction, fixation to the pectoral fascia or even skin ulceration. The granular cell tumor rarely exceeds 3 cm in diameter and is well-circumscribed.
The histology of granular cell tumor is very distinctive, with bland eosinophilic (pink) cells that are positive for S-100 on immunohistochemistry.
Treatment is by excision. There are no increased subsequent risks for breast cancer.
When a woman returns new clothing, that's Post Traumatic Dress Syndrome.
Figure 3.32 Granular Cell Tumor.
A. Mammographic X-ray appearance of a radio-dense mass with an
irregular edge, that was associated with some skin tethering.
B. Photomicrograph of the histology of the core needle biopsy (CNB)
of the mass shows bland, pink cells with granular cytoplasm and
small, dark nuclei. This granular cell tumor shows no evidence of
malignancy. (H&E x 40)
3.8.2 Neurofibroma

Benign neurofibroma is associated with the skin of the breast. It has no risk for subsequent malignancy.
Neurofibromatosis type 1 (NF1), or von Recklinghausen disease is characterized by multiple subcutaneous neurofibromas that may affect the breast. Mammographically neurofibromas appear as well-defined benign appearing masses that are often multiple. They are also peri-areolar in location. These tumor nodules on the skin may obscure the breast when mammography is done.
The ultrasound appearance of neurofibroma is of a well-defined, hypo-echoic mass with posterior acoustic enhancement, rather similar to fibroadenoma.
'Von Recklinghausen', what a very cool name.
'Hausen' actually means the settlement that a person was from and is very common in German surnames.
Allow me to introduce myself, I am Von Mooseinforesthausen.
Figure 3.33 Neurofibroma.
A. Mammographic X-ray shows a radio-dense mass, with a
well-circumscribed edge. B. Photomicroscopy of the histology
of this breast mass shows mainly connective tissue with
spindle-shaped cells with 'wavy' nuclei.  This is the classical
histological appearance of benign neurofibroma.
(H&E x 20)
3.8.3 Schwannoma

Schwannoma is also called neurilemmoma or peripheral nerve sheath tumor (PNST). Schwannoma usually develops in the extremities, the trunk and the head and neck regions; they have been known to develop in the breast.
Schwannoma is benign, but in the breast the mammographic appearance can be suspicious.
Schwannoma, now there's another fun-sounding word.
Yes Schwannoma are growths that develop from the Schwann cells of neurons.
What do baby schwanns dance to? Cygnet-ure-tunes!
Figure 3.34 Schwannoma.
A. Mammographic X-ray shows a radio-dense mass,
but with an irregular border. B. Photomicroscopy of the
histology of this breast mass shows cellular areas with
spindle-shaped cells and more loose, myxoid areas
(Antoni A and B areas). This is the classical histological appearance of benign Schwannoma. (H&E x 20)
3.9 Smooth Muscle Cell Tumors

Smooth muscle is found in the walls of blood vessels in the breast and the smooth muscle components of the breast nipple.
3.9.1 Leiomyoma
Smooth muscle tumors of the breast range from benign leiomyoma to anaplastic leiomyosarcoma.
Mammographically, leiomyoma will tend to show a sharply defined border and will lack the irregular appearances typical of breast carcinoma. Breast leiomyomas usually appear homogeneous and moderately to highly dense. They are also 'negative' for certain features which might suggest ductal carcinoma, such as microcalcification, architectural distortion, and skin thickening or nipple retraction. Sonographically, breast leiomyomas are mainly solid, homogeneous, and well circumscribed nodules, and without apparent cystic features (fluids).
Breast leiomyomas are often in continuity with the smooth muscle components of the nipple areolar complex. Smooth muscle tumors of the breast are treated by complete excision to allow for sampling and microscopic analysis of the entire mass.
Figure 3.35 Leiomyoma.
A. Mammographic X-ray of leiomyoma of the breast shows
a tumor of moderate density, with well-defined margins,
rather like the appearance of a fibroadenoma. B. Photomicroscopy
shows the diagnostic features of benign leiomyomas;
a cellular tumor with cell nuclei that are 'blunt-ended.'
(H&E x63)
References
Brown, V., Carty, N.J. (2005). A case of nodular fasciitis of the breast and review of the literature. Breast 14(5), 384-7. (Retrieved November 5th 2014): http://www.thebreastonline.com/article/S0960-9776(04)00188-2/abstract
Ciurea, A., Dudea, S.M., Lebovici, A., Fodor, L., Crisan, D. (2014). Diffuse angiomatosis of the breast – sonographic appearance. J Clin Ultrasound 42(8), 498-501. (Retrieved November 5th 2014): http://onlinelibrary.wiley.com/doi/10.1002/jcu.22199/abstract;jsessionid=9CFA91217EED45CA7D40408986EB18C5.f04t03

Patient Information
Breast Cancer Org.. Benign breast conditions: Not all lumps are cancer. (Retrieved January 18th2015):
http://www.cancer.org/treatment/understandingyourdiagnosis/examsandtestdescriptions/forwomenfacingabreastbiopsy/breast-biopsy-benign-breast-conditions
Breast Cancer Org.. Your Guide to the Breast Cancer Pathology Report (Retrieved January 18th2015):
http://www.breastcancer.org/Images/Pathology_Report_Bro_V14_FINAL_tcm8-333315.pdf

Forward to 3D on gynecomastia. Back to 3B on benign hyperplasias